Michael Jackson : Auf Wiedersehen Pet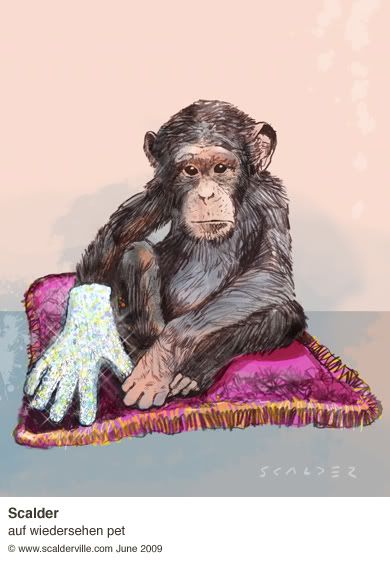 So the Guten Burghers of
Scampstadt
asked for some
images to mark the passing of Michael Jackson
and got quite a few interesting responses at pretty short notice. That's mine above - the last image created in my old studio - the first posted here from the new one.
What a to-do, eh? This one will run and run.... or Moonwalk a while anyway. Whatever way you slice and dice it, Jackson was a remarkable individual - such grace and beauty, horror and ugliness - so many facets, so many flaws. Through such riotous contradiction is our fragile humanity cleaved. I've tried to capture some quality of that in my image.
I really, really love the music
Jackson made with Quincy Jones
, whose input should never be underestimated. But then, he was working with quicksilver too - the resulting alchemy a sheer wonder; Kalimba rhythms flickily synched on strats and synths with a twitch and a flinch, mmmmmmmm that's good groovy!
So, while the circus wheels on its inevitable way, I'll keep schlepping boxes and sweating profusely through the humidity as the move to the new studio nears completion. You should
see
how much stuff has been shed along the way - bags, boxes, big, small, binned, recycled, re-purposed. Now I'm sitting here in an airy Dun Laoghaire garret. One more day of removals and that's it - I'm not lifting or packing anything again for the rest of the Summer. Ciao.