An inner émigré : Stepping Stones review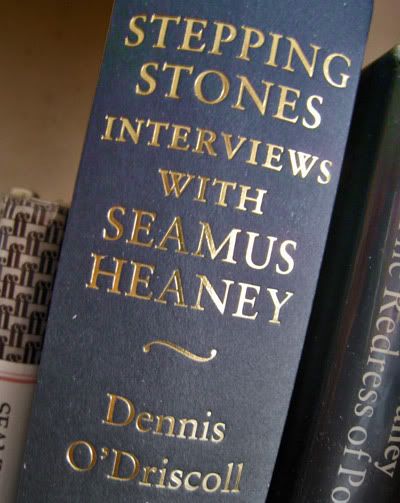 My review of
Stepping Stones : Interviews with Seamus Heaney
is now online over at
Todd Swift's wonderful blog, Eyewear
. It's a smashing book for dipping into, full of personal insight and recollection, coaxed into daylight by O'Driscoll.
Just got myself a ticket for the special 70th birthday tribute for Heaney, planned for this year's
Poetry Now
festival - yay! My understanding is that the festival poets will read a favoured Heaney poem, or perhaps something else that they deem appropriate. I'm sure its a fairly open brief - should make for an interesting event. The tribute is scheduled for Saturday 28th March, though the poet's birthday is a little later, in April.
Interesting, or at least coincidental, to note that he was born in the same year WB Yeats. Yeats died on 28th January 1939 - Heaney was born a few months later on 13th April. No occultist conspiracy theories please!
I'd guess Heaney is in for a fair few celebrations this year to mark the beginning of his seventh decade. I believe RTE has even pushed the boat out and - gasp -
commissioned a symphony
!