Clubbing Time : Life beyond Books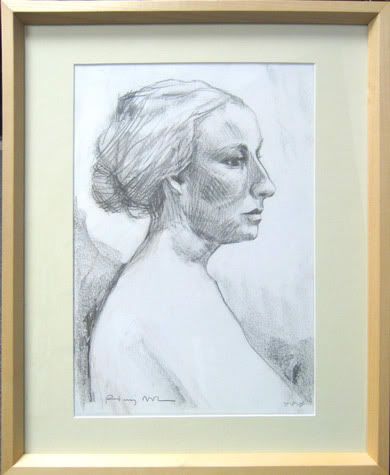 If you're in town for the Dublin Book Festival, you might like to make a little detour towards Fitzwilliam Street over the weekend. An exhibition of work from the Thursday night life drawing group is being launched by Irish author Fiona O'Brien at the United Arts Club tonight. This exhibition will run until 29th March, with viewing daily from 5.30pm - this quirkily shabby building only wakes up around then; septuagenarian baggotonians rubbing shoulders with the great, the good, upstart artists, poets, models, rakes, knaves, all sorts really. If you've attended any of Irish Pen's regular events there, you'll know the venue. Founded in 1907, by Countess Constance Markievicz among others, the club celebrated its centenary in 2007 (obviously enough).

Among the artists exhibiting in the show are Brian Gallagher, PJ Lynch, Oisin Roche and Comhghall Casey, winner of the Hennessy Craig Award 2008. The image above is one of two drawings I'm showing in the exhibition.

On a related note, I've an interview with PJ Lynch (in my illustration alter-ego, Scalder) about his most recent book over on the Illustrators Guild of Ireland blog, Scamp.

I'm looking forward to tonight's launch - but will be taking it easy on the hooch, as I've been lucky enough to score one of the places in Mebdh McGuckian's poetry workshop at the Book Festival. So, I need to be bright-eyed and bushytailed for Friday morning! I'm looking forward to this, coming after disappointment at missing the cut for this year's Poetry Ireland Introductions series. Again. Doesn't look like my submission to South was successful either. Ah well, onwards, upwards, wordwards.