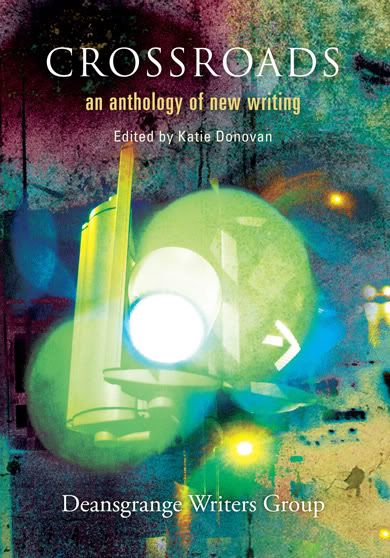 Well, it's all coming together! After months of chat, planning, submission, editing, tweaking, confusion, collaboration and ehhhh... a bit of writing, Crossroads is with the printers! We'll be launching this immaculate anthology at Bakers Corner, Kill Avenue, Dun Laoghaire, from 7.30pm, Tuesday, December 8th. Why not join us for a bit of pre-budget shenanigans? You're all welcome.

Guest speaker on the night will be novelist Julie Parsons, herself an excellent example of how the whole Writers Group thing supports those aiming to develop their writing. I haven't heard Julie speak before, but she comes highly recommended. After that, some of our group will read a selection of work from the book. There will be wine. Possibly even Porter. A good time will be had, and the book will be on sale - there may even be Special Offers ;-)

It's worth noting that all proceeds from the book will be donated to the National Rehabilitation Hospital. Our group has a long history with the NRH; one member is an ex-patient, and the group has facilitated writing workshops there in the past.

Crossroads will be on sale locally and will be available to purchase online soon, at deansgrangewriters.com

We're all very proud of this book - a first publication for several members - and there's quite a range of voices here. As our editor, Katie Donovan, says;

'Here is a variety of voices, drawing in politics, satire, family life, travels abroad and classical mythology. There is a ghost story about a shipwreck, a story for children about leprechauns, a memoir of the Dalai Lama, and responses to the recession in both verse and prose. Although each writer possesses his or her own distinctive style, there is, overall a confidence in tone and an ability to summon up a scene – from a crowded train station in Belfast to a lamplit farmhouse in Waterford – that makes this book consistently enjoyable and entertaining.'

Two words; Christmas Present!